Join Us
Are you a digital artist with a generous heart and some spare time? This might be the right place for you!
Art While Apart offers digital artists a warm space to grow and work on their art skills. Artists are given as much time as they like to complete portraits--they work at their own pace. Additionally, they can take on as little or as many commissions as they like; if they feel satisfied after drawing one piece, they are by no means obligated to stick around if they don't wish to. Art pieces range from simple headshots to full body pieces with backgrounds, there's no limit or minimum placed on what can be created.
So if you're looking to expand your portfolio while bringing a smile to other people's faces, please apply!
If you're interested in applying, fill out our form. Please link your Instagram, DeviantArt, etc., and upload 3 examples of your art. In order to screen for trolls, we also ask that you answer some simple questions about yourself.
Requirements for prospective applicants
AWA does, however, have some requirements for prospective applicants.
Although AWA is a charitable service, we do still have quality standards to not only ensure pet owners are happy, but to also benefit our long-term goal of transitioning into a non-profit charity. We are seeking intermediate level, or higher, artists at this time. A willingness to improve is also an asset, as we are backed by a growing art community. We are not biased against styles- be it realism, semi-realism, stylized, or cartoon.
When looking over the art examples provided, these are some of the components we assess:
Anatomy and proportions: does the piece show an understanding of basic anatomy and 3D forms?
Composition: is the posing awkward, is the subject disjointed from the background?
Lighting: dynamic lighting is not required, but does the lighting generally make sense- does it further showcase an understanding of anatomy and the 3D form?
Painting Techniques: is the painting rendered to an intermediate level? Overall there is a difference between visible brushwork based on style choice (i.e painterly), and unintentionally messy brushwork. Are there blank patches in the painting, unnatural textures, or a high lack of textures?
Artwork we do NOT accept
Filter art or photo-manipulations of any kind. I.e. any art that is produced by manipulating, filtering or incorporating any part of the original photo or stock photos instead of being rendered by brushwork or true vector work.
Traditional art, be it scanned or regularly photographed.
Heavy reliance on color-picking and tracing is discouraged -particularly when used in combination, or in a way that greatly hinders growth, knowledge of proper anatomy and/or color theory
See below for examples of artwork we do not accept as well as the reasoning why they would not be accepted. All artwork was made by Art While Apart staff when they were younger or purposefully for displaying what we do not allow, and was used with artist permission.
Examples of artwork we do not accept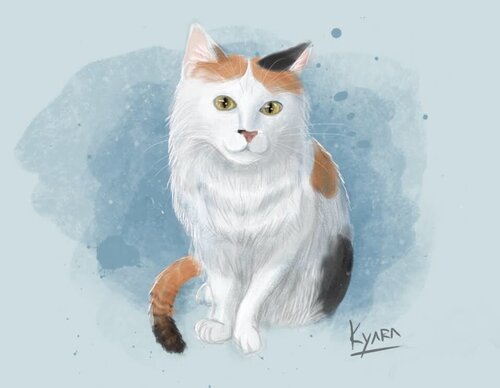 Poor lighting, anatomy, and painting technique.
---
Artwork we accept
Artists should have a solid foundation of anatomy, composition, shading, and painting technique. For examples of what we do accept, check out the pieces shared below.
Examples of artwork we accept